Dog Walking
Is More Than Just Clipping On A Leash!
We take dog walking very seriously.
King Pup is a safe, professional, insured and bonded New York dog walking service with many years of experience. All of our dog walkers are fully trained dog lovers with prior experience owning or working with animals. We don't walk dogs in packs, we don't wear headphones while walking and we operate with the highest standards of care and safety because we know just how much your little guys mean to you! Our goal is to make sure that New York dogs get the exercise and attention that they need, and that New York dog owners feel confident that their pets are in good hands on a daily basis.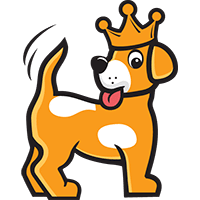 Convenient
Set up a recurring weekly schedule or book walks when you need them through our online portal. And with our GPS check-in/check-out feature, you'll know exactly when your walker was there and how long they were out for.
Safe
For solid dog walking safety, we securely attach dogs to ourselves with mountaineering carabiners. It's not hands-free dog walking and the leash is still firmly held, but you know that your dog won't break free from their walker.
Reliable
Your dog depends on a daily routine to feel secure, which is why we guarantee to arrive in the time window you've selected, and we don't switch walkers from day to day. We want your dog to form a bond with their walker!
How do I get a dog walker?
Contact Us
Let's chat! We can assess our availability at your location and talk about your dog's requirements in more detail.
Meet & Greet
This part is optional, but most people like to meet the walker in their home and introduce them to their dog.
We're All Set!
Once we have all of your dog's info in our database and have arranged access, we can start the walks!
---
"Fabulous organized group of animal lovers – recommend it to anyone looking for a professional dog walking company with a heart!"Melissa Shertz, NYC
---

*Multiple dogs/private: add $4


*Light schedules: add $4

*Multiple dogs/private: add $5


*Light schedules: add $5

*Multiple dogs/private: add $7


*Light schedules: add $7
While we don't walk dogs in packs, we often walk dogs in compatible pairs. We never walk more than 2 dogs together (unless they're from the same household). If you have multiple dogs or would like to guarantee a private walk for your dog, please add the indicated surcharge per walk.
If you have occasional or last minute dog walking requirements, or require 3 walks or less per week, please add the indicated surcharge per walk. Please note that in certain cases, we are only able to schedule occasional or sporadic dog walks outside of our peak hours of 10am – 4pm.
We take some Federal holidays as a dog walking holiday by default, but if you would like to schedule walks on these days then we have a surcharge of $5 ($10 on Christmas Day and New Year's Day). The following Federal holidays apply: New Year's Day, Memorial Day, Independence Day, Labor Day, Thanksgiving, Christmas Day.
For weekend walks and/or walks past 6pm, add $5. Please note that while we strive to send the same walker for your dog each time, we cannot guarantee the same walker outside of your dog's usual walking schedule. Also note that this surcharge is only applied once to a walk, i.e. if you have an evening walk on a weekend then the total surcharge is still $5!
Heavy Schedule Discount
If you sign up for an ongoing schedule of 10 or more dog walks per week, then you qualify for our heavy schedule discount of 15%! If you make the occasional cancellation and fall below 10 walks you'll still get the discount, although in cases of frequent ongoing weekly cancellations we may have to review your rate plan until such time as your schedule becomes regular again.
NYC Dog Walking Safety
We want you to feel secure in the knowledge that your dog is in safe hands when they're out with their King Pup walker. We see a lot of dog walkers out there taking a frighteningly relaxed attitude to safety and it's not good! There are a number of perils on the streets of a big city. For this reason, King Pup has the following safety rules and procedures for your dog's well being:
Connector.

Connector.

No Pack Walks

Pack walking is becoming a thing of the past and for good reason. King Pup walks no more than 2 dogs together, or privately if requested.
Connector.

Connector.

We Use Carabiner Clips

Your dog will always be clipped securely to the walker as a safety backup should something happen that's out of their control.
Connector.

Connector.

No Light Poles!

Some light poles in NYC are poorly maintained and have loose wires or open access hatches. There is a risk of shock, so we train our walkers to avoid them!
Connector.

Connector.

Scanning Sidewalks

New York streets and sidewalks can be a minefield of broken glass, chicken bones and other hazards. We train our walkers to scan the sidewalk constantly.
Frequently Asked Questions
---
Dog walking is more than just a job. It's a commitment to the well being of animals who are family members more than pets.
---