NYC Dog Walkers
Like This Are Gold Dust. Meet Yours.
We're one of New York's most respected dog walking services.
Since 2004, King Pup has provided outstanding dog walking and pet sitting services for busy New Yorkers and their pets. Our NYC dog walkers and pet sitters are hand picked and trained by us to meet our high standards of security and safety! Why roll the die of ordering an amateur from an Uber-style app when you can hire a dedicated , full-time professional?
GPS Check-Ins
See when your sitter arrives & leaves with GPS-stamped report card notifications
Online Booking
Manage your dog's walk schedule and billing from our online client portal
Safe & Secure
Our NYC dog walkers and sitters are fully trained, insured and bonded
We Aren't An App, We're A Pet Care Service.
The last few years has seen the emergence of multi-million dollar dog walking companies who describe themselves as an "app" or the "Uber of dog walking." It's almost as if the app is the star of the show, right? We are not an app and never will be. With King Pup, you'll use our app to manage your pet's schedule, communicate with your sitter and pay your invoices. We use the app to keep our schedules on track, send you GPS-logged visit reports and access your pet's profile. But at the end of the day, your pets don't care about apps. They just want to know they're loved, and that they can trust a familiar face to take good care of them when you're at work. This is who we are!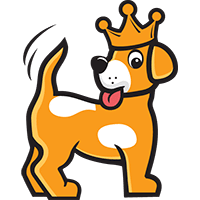 ---
"I have had several dog walkers and none have been as reliable as King Pup"Aime Primm, NYC
---
Have Your Dog Walker
Stay In Touch With You
You never have to wonder if your dog is being walked again. Once you register an account in our client portal and download our optional phone app, you will receive daily notifications which show you exactly when your dog was walked, how long they were out for, and how the walk went.
You can also use the app to manage your dog walking schedule, pay invoices and update the pet profile we use to ensure that your dog walker has all the information they require to give your dog the care they need.
Same Walker Every Day
You don't have to worry about someone you've never met having access to your apartment and your dog. We give you the same walker every day and notify you well in advance if we have to make a change so that we can schedule another meet & greet. We want you to be 100% comfortable with your dog walker.
Our Dog Walking Rates Are Fair and Sensible!
Setting rates is a fine balance between providing value for money to the customer and making sure that employees are paid a fair wage. Since King Pup is a local business which started small from humble beginnings and doesn't have a crowd of profit-thirsty Wall Street investors to keep happy, we have been able to keep our dog walking rates at sensible levels over the years. The result is that we provide a more personal and reliable dog walking service at a lower rate than many of the large corporate-style dog walking companies. Quality pet care shouldn't break the bank!
---
Pet Sitting
Hundreds of pet owners across NYC have come to rely on our rock solid, caring pet sitting service when they travel. You don't have to worry about your pets being properly cared for when you're away – we make sure they're happy and have everything they need.
Learn More
---
Puppy Sitting
The first few weeks of a puppy's life are very demanding, and they need in-home care before they're old enough to venture outside for dog walks. We can help by stopping by during the day to make sure they're fed, watered, clean and happy!
Learn More
We're With NAPPS!
NAPPS is a national non-profit pet sitting association dedicated to setting the industry standard, and championing the welfare of animals. NAPPS members represent the top dog walking and pet sitting services in the country.
James has done a fantastic job with King Pup, he's very communicative and so fond of dogs which is totally reassuring. Our walker, Martin, has been with us for several years now and he's so wonderful and patient with our dog.ALEXANDRA BOWERS, NEW YORK
Working with James and his team has been an absolute joy! He and his dog walkers are extremely reliable and my dog, Bull Murray, loves them. I highly recommend James and his team to anyone looking for a dog walker in Manhattan.AMANDA SEMMEL, NEW YORK
My dog Enzo absolutely loved Kimberly as his walker – and for two years, she really provided us with great service. The owner, James, too. Only wish we could have taken them with us when we moved!DARA MOSS, NEW YORK
Featured Articles
September 22, 2017
It's sad when it gets to the point where seeing a headline about a pet sitter losing a dog immediately makes you think of the name "Wag," and in the vast majority of cases, you were right. Unfortunately, here we are...
Latest
February 3, 2018
This is Gunner, an Old English Bulldog from North Carolina. In case you're wondering why his eyes are red, they were like that when his owner, Michael Batchelor, picked him up from his grooming appointment at his local PetSmart....
December 6, 2017
Well it just gets worse. Continuing a pattern that you can almost set your watch by, The "Uber For Dog Walkers" app-based dog walking service Wag! has lost yet another dog – this time in the Prospect Park area of...
August 31, 2017
In an act of shocking inhumanity, a judge in Oregon has ordered a pair of dog owners to "debark" their pets by having their vocal cords removed – a very dubious procedure which is painful, traumatic and often...